Stand with Ukraine. Save peace in the world!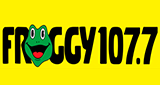 Froggy 107.7
Froggy 107.7 - WGTY is a broadcast Radio station from Gettysburg, Pennsylvania, United States, providing great country music from the newest country hits to traditional classics and bluegrass.
TOP songs on Froggy 107.7
Froggy 107.7 reviews
Christianna Shields

23.01.2023

i love country music and i listen from tokyo

We listen to your station at work. It would be nice to hear different songs. I've heard the same songs for over a year now.

I listen every evening from Hilo Hawaii. I enjoy the country music and keep it up Aloha.

Shari Williams

01.06.2022

The forg

I love Froggy 107.7. I am listening from Germany

I am listening from Ohio. I just moved from PA. Brings me memories

Francesca Contento

20.05.2021

I enjoy your On Air personalities. Thank you for playing Justin Moore. He is real country. Unfortunately some of the selections you are made to play on the radio belong on pop hits stations. They are NOT country -- Dan & Shay, Gabby Barrett, Sam Hunt Would love it if your station could stick to real country music.

Matthew Duckworth

26.01.2021

I used to live in York County. I miss listening to great country 107.7. I enjoyed all the personalities. I'm here visiting and I'm so happy to hear them again.

Like the song on the radio.

i love froggy 107.7 becaues when i am bored i can just turn my laptop on.