Stand with Ukraine. Save peace in the world!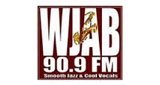 WJAB 90.9 FM
WJAB 90.9 FM is a public broadcast radio station from Huntsville, Alabama, United States, providing Jazz, Gospel, Blues, News and Public Affairs programing.
WJAB 90.9 FM reviews
Christine Kamback

12.03.2023

Douglas Turner plays the best selections on local radio. Thank you for Return to the Source.

I remember Viola Liuzzo. This program is great !!

I loved hearing my favorite summer tune the other day. Summer Breeze/Geoff/Trammell Starks!!! Coolest summer night tune ever.

Soxhna Maïmounatou Mbacke

20.05.2022

Wjab 90.9 is lit great variety of jazz, afrobeats, International music, reggae and more I love tuning in on Monday evenings for the for global groove and on Fridays I love the root box that starts at 5:00 pm!

Khadijia Mbacke

20.05.2022

Wow😊💚👍🏾 much love and praise!

I do not like Jazz

On Sunday December 12th I was able to listen to Mr. Doug Turner's program, "Return to the Source". This program has got to be one of the premier Jazz programs in the country. The music was marvelous. Turner's commentary on the music and the biography of the musicians was educational and much needed.

George E., Jr. Rice

02.03.2020

I love our playlist this morning! Where can I at it?

Good morning.... If I may reply, y'all are starting to play the same songs over, over & over again. Can you please get back to playing more of the variety dat makes... 90.9 so great, please????

WJAB you are a blessing to Huntsville and it's surrounding communities offer great Jazz, Blue, Gospel, Reggae, and Latino rhythms. Great programs and great radio DJs.
Radio contacts
Request Line: (256) 372 - 5861