Stand with Ukraine. Save peace in the world!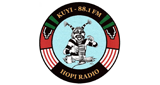 Hopi Radio
KUYI Hopi Public Radio provides Reservation Vibrations and World Music along with locally produced programming and Native News. Support independent Native radio
Hopi Radio reviews
Niltse nochi tlaneskiya-Hello good morning relatives listening from California via Old Mexico Guerrero and Cuautitlán Izcalli. Nahua family listening during our morning drive through these mountain passes. We acknowledge our ancestors and we try to keep our language alive. Indigenous music, chants encourages and reminds us of our relations. Tlaxtlawi Tlawel yolchikawalli- Thank you with much strength from the heart

fabiola ahumada castillo

09.11.2022

Hola soy mexicana no hablo inglés me an pasado cosas espectaculares en los últimos meses meseito hablar con alguien que me de el significado de una danza de ustedes esto es más espiritual yo lo se pero no se donde buscar hayudeme si portador

I'm up in the mountains outside of Flagstaff, on a personal reset of sorts, and Hopi radio (on an old fashioned radio) has been like my best friend for weeks and weeks. Like a trusted companion of the wood, Hopi Radio and the Spirit of the Hopi are a pleasure to greet the morning with. So let's share the rising of the sun together, stoke the morning campfires, and get on with another beautiful day!

Pearl Jam live followed by Black Sabbath with Sade following right before Freddy Mercury in one of Queen anthems and Reggae to top it off. Trully Eclectic an wonderful!!! Then i get to hear native Hopi sound... i am in awe... PUSH PLAY NOW 😜☠😇

Thank you for KUYI hopi radio. Im far frm home so i listen to this so i may be close to home in my thoughts. Thank u koonahha

FOO FIGHTERS? YOU GUYS ROCK!!!!!

Šamanism

Good Hopi RADIO Stations I lesion all time😐😊🦃🦃☀

I just found the station online. Naturally I'm letting everyone know about it. Love it. From our desert in West Texas I say kuudawohaa...

Terry Namingha

26.04.2019

Love listening to the radio station because I've been away from home for far too long that it is comforting to here songs from home!