Stand with Ukraine. Save peace in the world!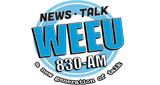 WEEU
WEEU is a news/talk station in Reading, Pennsylvania. The station broadcasts at 830 kHz on the AM band with 20,000 watts of power daytime and 6,000 watts of power during nighttime.
WEEU reviews
Finally, Mike Keller is gone. Now we enjoy listening to WEEU again!

Katie Schneider

26.02.2023

It's Wayne's World Wayne's world it's party time it's Excellent! Party on Garth. Follow me on this. Every show and host is down to earth and whilst having to address some subjects in a more serious tone I feel they are light hearted, fresh, freely express their thoughts,feelings and ideas. They allow themselves to be vulnerable and sincerely encourage callers to do the same. They promote a safe and non judgemental environment for all. Unlike many other stodgy stations with ridged personalities WEEU is kind, caring and ready to help callers in more ways than the law allows. Why and how is easy to see because everyone leads with their hearts it's their nature. Tune in if for no other reason just to tell me I'm wrong. They are smart and engaging plus have the most consistent intelligent callers that undoubtedly will make you laugh, cry, remember and inspire you to be a better version of you!

Far BETTER now.Sick of hearing Mike Faust talking about picking and gardening. Met him at in Eohrata, Pa. Got a WEEU tee. He REFUSED TO autigraph it.

Patricia Zimmerman

18.02.2022

Did you forget there's a girls game before the boys!!

This streaming works great. I can never listen to Jack's Backyard with out the reception going in and out or totally going out on the radio here in Hamburg, so I am grateful to be able to get the live streaming on my devices.

love Your station the boomer and ha ha zoomer are wonderful

Where did WEEU find this BS artist.? I'd rather listen to reruns of Phillies games than the crap this guy slings. Does he know anything at all about English grammar? I guess, after Trump, it really doesn't matter to the Trumpanzees.. BRING NICK BACK.

Love local non dominating philly stations remember us in skippack regards

I haven't listened for a while. I just turned the station on, hoping to hear Nick. All I hear is some guy berating "liberals" Where is Nick? He was the only reason I listened to your station. We lost our local talk on WLBR. Now I guess I will go back to my satellite radio.

Enjoyable format. Although I don't always agree with certain moderators political postures, I do appreciate hearing other viewpoints.