Stand with Ukraine. Save peace in the world!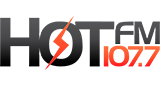 107.7 HOT FM
107.7 HOT FM (KWVN-FM) - broadcasts an adult hits music format to the greater Columbia Basin area.Notable syndicated programming includes American Top 40 with Ryan Seacrest on Sunday mornings.
TOP songs on 107.7 HOT FM
107.7 HOT FM reviews
Everleigh Miller

30.11.2020

I enjoy listening to this station that uses fairly modern pop songs

i love it!

@Kimberlee Shepherd....you realize how radio stations work/make money. They have a set of songs that have to get played. That's why you hear the same songs played over and over and over.

LadyHazel Jane

05.04.2020

Doug we miss you. Love hazel Lewis Sally Kya and anashia xxx

Kimberlee Shepherd

12.04.2019

You play the new song by Lady Gaga and Bradley Cooper "Shallow " WAY TOO MUCH!!! Lots of songs out there that don't get played. Shake it up!!

Rubin Passmore

11.12.2017

Your song is awesome I think that bcuase your songs ralate to some thing that has happend in my life.