Stand with Ukraine. Save peace in the world!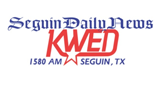 KWED 1580 AM
KWED (1580 AM) is a radio station broadcasting a Country music format, licensed to Seguin, Texas. Local news and your favorite country songs on radio station AM 1580 KWED, Seguin. The Seguin Daily News brings you the news you need each day for Seguin and Guadalupe County. SeguinToday.Com is your one stop portal for all things important to people in the Seguin and Guadalupe County areas.
KWED 1580 AM reviews
ITS A GOOD IDEA FOR A NEW SUBDEVSION IN THE COMMUITY

Tuned to listen to the Saturday KWED Trading Post and was shocked it wasn't on. I always looked forward to hearing and possibly buying something. Really disappointed guys.

Kenneth Holden

13.06.2020

What's wrong with Saturday Swap Shop y'all have let the American people down sometimes this is the only day to put something on the swap shop come on get with it

All of you! ROCK!

say they have sat. trading post hasnt been on last 3 sat. thats only day some people have to post.