Stand with Ukraine. Save peace in the world!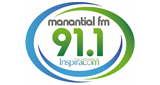 Radio Manantial 91.1
Radio Manantial 91.1 - KVER is a broadcast Radio station from El Paso, Texas, United States, providing the Gospel of Jesus Christ to all people, in a pleasant and contemporary context. Station Seek spiritual growth of the listeners, strengthening and building the church of Christ to the faithful teaching of God's Word, the Bible.
Radio Manantial 91.1 reviews
Favor de oración por fam. Martínez Dios proteja su hogar y toda su familia de ataques del adversario

Gloria Y Jose Olavarria

17.05.2023

GRACIA MANANTIAL 91.1

Esa canción "No Me Soltaras" tiene 15 años??? Es una de mi favoritas! Amen. Se que Dios nunca me soltara. ❤️

Diego Zárate aguirre

03.02.2023

Muy importante su msj k cada día trasmite a todos lo radios escucha dios les vendiga les escucho desde el estado de veracruz y an sido una vendieron para mi vida saludos

Me encanta Manantial Dios les bendiga

Trinidad Colón

27.08.2022

Bendiciones!!❣️❣️

Exelente Radio Mantilla bendiciones

Son una Gran Bendición.

Bueno muy bueno estación para los ermano de la frontera me impresionó mucho cuando ví el cerró de la biblia con la palabra la biblia es la verdad leela tanto la radio y el cerro asegura que la biblia es la verdad Dios les bendiga a todos los que se esfuerza erstr en verdad

Pedro Gallegos

14.03.2022

Información Información para grabar la estación en mi teléfono
Radio contacts
Fax: 915-544-9193