Stand with Ukraine. Save peace in the world!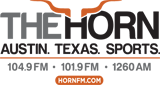 104.9 The Horn
104.9 The Horn is an American radio station licensed to serve the community of Bee Cave, Texas. The station broadcasts a sports format to the Austin, Texas area, and is the flagship station of the Texas Longhorns.
104.9 The Horn reviews
I have been a listener of this station for years, and loved almost every broadcast, partner team, and segment. Ever since Austin FC became an actual thing though, their coverage has declined, and that's saying something because it wasn't great in the first place. It is EXTREMELY disappointing that the peak hours broadcasts only mentions Austin FC in their quick pre-scripted updates, where they may get 10 seconds of air time. The only actual air time devoted to soccer is one night a week, in the evening when most people stop listening to the radio, and the host isn't even a local Austin FC announcer (Adrian Healey or Michael Lahoud), or anyone affiliated with or a fan of Austin FC. It's the announcer for the Houston Dynamo (Glenn Davis).

Big fan of the Horn & all it's radio personalities for many years. My only real issue is with the political advertisements on this site that clearly favor the ex-prez. I guess this is online radio box's site, but it still appears that the Horn is associated with these political advertisements. Maybe the Horn should negotiate with online radio box to change these advertisements to something else. That ex-prez encouraged people to attack the capitol just because he lost the election which was proven to be fair and that shouldn't be considered acceptable behavior by anybody.

I just saw an interception on axis League football and I'm so excited!! Oh yeah oh yeah that's right that's right that's right oh yeah oh yeah (clearing voice) the game is on fox and my dad is watching EspnU

I listen to the horn station all the time and it's home for the Cowboys.

Leonard Estrada

30.08.2021

HOOK'EM HORNS (Great Statioan). All programs are very entertaining.

Love listening to Jeff Ward!!! Thanks for having him fill in for Chad

Great listening! I'm New to 104.9. I enjoy your show...but there is an announcer that said he drinks his own urine. I'm totally grossed out. And want to know why? This is his preference?

The best Sports talks station in Texas.

BK is a great listen. Very funny guy. Very good at what he does. 🤘

This guy is terrible! I normally listen to Rod, Trey, BK and Bucky, I accidentally listened to one Saturday, there was two women, I think one was leaving, that was the worst I had ever! This guy!!! Terrible!!!!