Stand with Ukraine. Save peace in the world!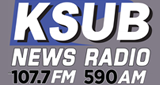 KSUB
We are your source for live, local southern Utah news, southern Utah sports, information and more! 590 AM KSUB!
KSUB reviews
HELP!!

I LIVE IN ALBUQUEQUER, NEW MEXICO AND ENJOY LISTENING TO YOUR RADIO STATION KSUB ON WEEK ENDS....

Love conservative talk shows

I love tradio

Doctor T (doctor tradeo) is the nicest radio host EVER. KSUB 590 TRADEO. Sell your unwanted stuff and listen to find stuff you want.

Terrill Williams

20.10.2020

Great small town station. We listen every chance we get!

7-29-20... off the air, AGAIN, no tradio this morning, and the FM station doesn't come in worth a crap at my house. Gotta be the worst station in Southern Utah, sure glad I don't listen to it more often.

Michael Yardley

10.06.2020

It's a great station that serves the local market well. I enjoy the local programming.

That was horrible lean in. Btw. Love the show. Fix your input problem.
Radio contacts
435-673-3579 (General Business Phone)