Stand with Ukraine. Save peace in the world!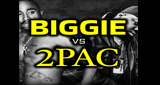 FadeFM Radio - BIGGIE vs. 2Pac
Hip-Hop icons and rap innovators, the Notorious B.I.G. and Tupac Shakur continue to influence, define, and change the genre years after their deaths. Despite the controversies surrounding the murders of Tupac and Biggie, ultimately it's their art that remains their biggest legacy. The rap legends, Biggie Smalls and 2Pac are only featured on this FadeFM Radio Channel.
Related radio stations
Show more
FadeFM Radio - BIGGIE vs. 2Pac reviews