Stand with Ukraine. Save peace in the world!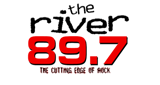 89.7 The River
The Cutting Edge of Rock. There's enough negativity in the world, keep it positive or be removed | Listen Live 24/7
89.7 The River reviews
Best station in the area. While all of the others are playing the same dozen songs repeatedly for 40+ years, these guys mix it up a bit. Skinman can find almost anything for the Old School program on Wednesdays.

Patrick Rieber

03.11.2022

Good stuff! Pat Paradise Rock Station listening from Sioux Falls, SD. Sounds great on the Online Radio Box. Keep up the great work!

Great station to listen to and request what you want to hear.

Love listening on my way home from work at 630 am and going into work at 6pm at night. Really enjoy the summer outside concerts let alone the inside ones as well. Love me some river❤❤❤❤

Jeffrey Rablin

22.07.2020

Can't listen to any other station this is the type of music I love and from the best Community College in the land way to go IWCC you ROCK

Best radio station around! I can't find any other way to start my day than with the Morning Fiasco! Thank you for many years of support for the community!

I love this radio station. I have been a loyal listener for some years now. 89.7 your staff and management I have to say u all are doing a freaking understatement when I say u all are awesome and doing a killer job love it thank you for giving us a awesome station to listen to. Thanks again.