Stand with Ukraine. Save peace in the world!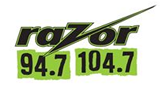 Razor 94.7
Razor 94.7 & 104.7 - WZOR is a broadcast Radio station from Mishicot, Wisconsin, United States, providing Alternative Rock, Hard Rock, Metal and Hardcore Music.
Razor 94.7 reviews
Denmark Wisconsin

16.11.2019

The local DJs are great, there is a really good variety among the personalities and they compliment each other well. We love that you have Lou Brutus, he is a really cool person and has great insight on so many things in life. However, Free Beer & Hot wings are about as terrible as every other morning show on the air. Having Cutter later in the day definitely makes up for these Beavis and Butthead copycats.

yeah best in the world USA

So I love the music you play but I really have an issue with the information shared today about the lady that is skipping out in her ticket in Iowa. You totally supported this woman not paying her fine. I agree that it is a stupid amount of $35.00 but the point is that she received the ticket and is responsible for paying her debts. By her doing this she is send a message that it ok not to pay your bills and be responsibility. Others will see this and think if she got away with it they can too.

Revalaytor Music

28.05.2019

Can you guys play "All It Takes" By DAV featuring Jon the Revalaytor?
Radio contacts
https://www.instagram.com/razorwisconsin/
Phone: (920) 734-9226
Fax: (920) 739-0494