Stand with Ukraine. Save peace in the world!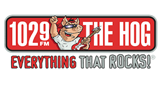 The HOG
WHQG is a rock music radio station in the United States. It is licensed to Milwaukee, Wisconsin and serves the same region. Another popular name of this radio station is 102.9 The Hog. The name and the callsign are references to Harley-Davidson fans (this company also has its headquarters in Milwaukee). However the radio station itself is owned by Saga Communications.
Show more
The HOG reviews
Bob and Brian are entertaining 36.5% of the time and the rest of the time sound like they want to be at home, but they aren't the worst part about the station. The playlist is. Holy hell, can you guys make a small edit once and a while? You realize that people leave on the same station at work and they hear the playlist every day…so when you don't update it for a month your station becomes unbearable as piss warm beer. My God. It's like someone left on an iphone playlist and just plugged the bastard in every day.

Someone on there has a very annoying laugh …some days I can't even listen to him and change the station!!🤦🏻‍♀️

Crack me up every morning

Rosemary Schlimgen

16.12.2021

Love the Bob & Brian Show. It's frustrating listening on the app, it plays and then cuts out, have to reboot.

Knuttsack Jones

07.10.2021

I love Bob&Brian in the morning, they've been cracking me up for over 30yrs now. They're born and raised here as well so their childhood stories are even funnier as the listeners know the area. Also one of the rare media outlets that tells the facts instead of the usual agenda. As for the rest of the station, I don't care for the music they play so I turn it off when B&B ends around 10:30

Steven Schmitzer

25.06.2021

It amazes me (and them I believe) that Bob and Brian have been around for 30+ years talking about nothing...with apparently no show outline. Honestly I do find some of their bits funny. It is when they start pushing their sadly uninformed political opinions as actual news instead of commentary that they have to be switched off. It will be great to see the next morning show to take over.

Worst app to listen to the best morning show ever on. Always cuts out after 5 mins or so and stay out until you reboot it. I'm guessing it won't be fixed as it's been this way for a year or so.

Plays for 2 minutes and stops. I have to push the stop button and then push play again.

I love the HOG!!! Marshall Edwards is a moron and I'm not related to him.

Spontaneous Combustion! You guys make me laugh so much everyday! Because that's what we all really need! Is a smile and a laugher everyday! HOG = Hold On God wait second....You'll start laughing!
Information about the radio
102.9 The Hog radio station was founded in 1962 as WRIT-FM. Initially it played various music styles. Then it changed the callsigns several times and the format, too. It played adult contemporary music, country music until it finally started broadcasting mainstream rock. Nowadays WHQG plays rock, hard rock, metal and hardcore. It has a morning show, but all other on-air time is dedicated to music.

If you are rock fan, you will definitely be glad to find them on 102.9 MHz FM frequencies or on HD Radio. But if they are not available in your region, you can bookmark this page of our website with their live stream and listen to 102.9 The Hog online.
Radio contacts