Stand with Ukraine. Save peace in the world!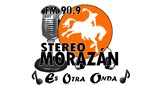 Radio Stéreo Morazán
San Francisco Morazán, 90.9 MHz FM
Radio Stéreo Morazán es un medio líder en el Departamento de Morázan, que promueve la educación, la participación ciudadana, el rescate de los valores, informando a través de diferentes programas, que se transmiten en nuestra programación diaria.
Radio Stéreo Morazán reviews
Patricia Portillo

25.11.2023

Muy pero muy buenos días feliz de poder escuchar esta bonita radio

jose rafael reyes chavez

14.05.2023

Buenos días,

Alesana Claro's

13.02.2022

Saludos desde Maryland

Carlos Ezequiel Andrade Escobar

11.02.2022

Hay que poner música 🎶 de algodón ey, porfas un mix de algodón, Delicias de Concepción.

Carlos Sánchez

09.02.2018

muy bonita y variada programacion musical felicidades y muchos exitos amigos saludos desde san salvador. los ecuchamos en linea

vamoooos platencee