Stand with Ukraine. Save peace in the world!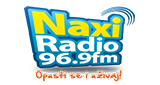 Naxi Radio
Naxi radio, najslušanija beogradska radio stanica, osnovan je 1994. godine, a od 2011. formiran je Naxi media tim koji, pored radija, obuhvata i Naxi portal i Naxi digital - prvu mrežu digitalnih radio stanica u Srbiji.
Show more
Related radio stations
Show more
Naxi Radio reviews
Mária Körmendi

01.10.2022

Kedves Szerkesztőség! Én is részt vettem az elsők közt az ifjúsági rádió szerkesztőség munkájában. Az első honoráriumból egy emlékkönyvet vettem. Csodás évek voltak, amire így 60 évesen is jó visszaemlékezni. A rádió kerítését is együtt festettük be.

Blagojevic Miodrag

07.07.2022

Upravo sam u Bugarskoj Hotel Slavyanski zahvaljujući Personalu iz Makedonije slušamo vas sve Vreme.

Bravo, najbolji ste

Stvarno savršenstvo slušanja muzike, kad god upališ svaka pjesma te dira. Svaka Cast!

i Bec vas voli :). Super ste .Ostanite tako.

Predrag Vucinic

21.08.2021

Super radio, slušamo vas u Španjolskoj-Bilbao... ekipa iz Rijeke 😊

Ana Marinkovic

30.03.2021

Veliki pozdrav za sve iz Nisa. :-):-)

marjan trajkovski

21.01.2021

Moze I malokomentara u stilu Minimaksa,kao,raniji nocni program RT beograda

5

Non stop dobra muzika - najbolji ste
Information about the radio
Tim Naxi radija svakodnevno radi na implementaciji novih svetskih radijskih trendova, uvek stremi ka savršenom radio programu, najboljem izboru muzike, tačnim i preciznim informacijama i kreiranju sadržaja koji slušaoci žele da slušaju.
Radio contacts
Telefon studio: +381 11 22 74 011
tel: +381 11 215 76 68
fax: +381 11 217 64 96