Stand with Ukraine. Save peace in the world!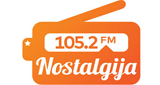 Radio Nostalgija
Poznata radio stanica koja emituje odličnu domaću zabavnu muziku iz 80-ih i 90-ih, kao i kvalitetnu stranu muziku.
Radio Nostalgija reviews
Opušteno u ritmu srca....

Muzika za dusu

Prva klasa

Драгиша Јовановић

28.06.2021

A sve je počelo na "Olimpu"...stub predajnika...studenti...bilijar sto...coca cola...konferencija za novinare u H "Hayat" sa Francuzima...

Snjezana Milosavljevic-Krizanovic

19.04.2021

Musika za svačije uši i za sve prilike 👍👍👍🥰

Carsten Rasmussen

17.02.2021

very good

Radiša Koprivica

15.09.2020

Neprocjenjivo ...

program za dušu

simple the best

Predrag Zagorac

08.10.2019

Najbolji ste !
Radio contacts
Telephone: +381 62 21 84 71