Stand with Ukraine. Save peace in the world!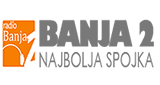 Radio Banja 2
Vrnjačka Banja, 100.7 MHz FM
Radio Banja 2 je živi radio zabavno – informativnog karaktera sa željom da bude radio svih Vas koji ga slušate. Svoje programske sadržaje emituje iz centra Srbije sa teristijalnog predajnika 99,1 MHz. Emituje narodnu muziku, kratke vesti i neophodne servisne informacije kao što su stanje na putevima, lokalna i globalna vremenska prognoza, raspored radarskih patrola i lokalne informacije tipa servisa za gradane Vrnjacke Banje i okoline.
Radio Banja 2 reviews
Snežana Aćimović

06.07.2022

NAJBOLJA Banja 2! Kao uvek... Poz iz francuske (ali sam banjčanka) 😊

Aleksandar Batoćanin

03.10.2021

Svaka čast za muziku!!! 😉

Najbolji radio Banja dvojka.....

666

Dusica Mitrovic

05.01.2020

ODLIČNI STE, ČISTA DESETKA, POZDRAV IZ SWEDSKE, DUSICA LEVCANKA HELSINGBORG, VOLIM VAS, I ŽELIM SREĆNO I USPEŠNO OVO 2020, LETO GOSPOD NJE 👍😊📟💖🎶🍀🥂

Владимир Васиљевић

12.07.2019

Браво за стару музику!

ALEKSANDAR PREMOVIC

14.05.2019

samo napred pozzzz okolina Cacka

Acimovic Snezana

04.10.2018

Poz iz Francuske za sve banjčane a posebno za vas u studio ! 💋💋💋💋snežana