Stand with Ukraine. Save peace in the world!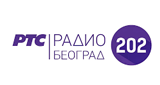 Radio Beograd 202
Opština Niš-Crveni Krst, 101.8 MHz FM
Beograd 202. Diese Radio-Station ist für das Agglomerationsgebiet von Belgrad gedacht, sendet aber auch über verschiedene weitere Frequenzen in anderen Teilen Serbiens über UKW und Mittelwelle. Es werden Kurznachrichten, Rock- und Pop-Musik ausgestrahlt. Die Moderatoren der verschiedenen Musikprogramme animieren die Zuhörer, ihre Meinungen und Ideen via SMS und übers Internet mitzuteilen. Belgrad 202 hat auch ein spezielles Morgenprogramm von 6:00 Uhr bis 9:00 Uhr, das sich um aktuelle kulturelle, soziale und politische Trends dreht.
Radio Beograd 202 reviews
Jovo Bjelobaba

23.09.2023

ma tako dobri ste mada ne mogu a da ne primetim to politika bi trebala bi biti OUT a vidim da se naginje na stranu ukrajine bez obzira ako cemo o politici zna se sto misli 80 plus posto srba i ponekad mislim da je neki hr radio previse toga se ubacuje heh a onda cujem ekavicu o hrvati pricaju ekavicu hehe salim se ??

Muzički izbor je ponekad takav da mora stanica da se menja. A reklame su svakim danom sve iritantnije, pa i zbog njih često mora da se menja stanica... Šteta, jer bi moglo bolje.

Kakava selana!!! Šta ste uradili sa kultnim radiom to je strašno!!!

Najbolji.

Milivoj Arbutina

16.08.2020

10ka