Stand with Ukraine. Save peace in the world!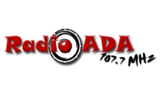 Radio Ada
Radio Ada 107.7 is a broadcast radio station from Ada (Serbia) Radio Ada *** iz srca Vojvodine - Vajdasag szivebol
Radio Ada reviews
legjobb

Legjobbak ti vagytok,Suuuuper Kis Karoly

sajnos tobbszor is elerhetetlen az online adas

Franciska Loci

03.10.2021

Imádom az Adai rádiót Vasárnap Othon érzem magam Köszönöm szépen.

En szerintem ti vagytok a leg-leg jobbak. Szep beosztott Müsorotok van. ES sok jo Magyar notak !!!!!!!

Nagyon szeretem az Adai rádiót minden Vasárnap hallgatom. Köszi szépen.

Amióta létezik azóta hallgatom*****!

Imádom az ADA-rádiót!

Legjobb rádió!!!

Jó,csak néha megáll.
Radio contacts
fax 024/853-195
Marketing: 024/853-193 od 8 do 14 casova
Time in Ada: ,