Stand with Ukraine. Save peace in the world!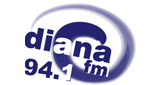 Diana FM
Fundada em 1986 por um grupo de eborenses, a DianaFm tem por objectivo principal dotar Évora e o Alentejo de uma rádio com uma programação de qualidade.A emitir de Évora, em FM, na frequência de 94.1 MHz, orgulha-se de, a par de uma forte componente informativa e de debate de opiniões sobre a realidade local, do país e do mundo, oferecer aos seus ouvintes, uma selecção musical criteriosa e diversificada.
Show more
Information about the radio
É uma rádio de proximidade para adultos.
As vozes, masculinas e femininas, bastante diversificadas, não obedecem a qualquer formatação prévia.
A linguagem é simples e clara, sendo dito apenas o estritamente necessário.
O ritmo acompanha a cadência da vida de uma cidade de média dimensão, do interior, como Évora.
A música, de qualidade, é classificada segundo três parâmetros principais: o ano de produção; a origem ou expressão; o género musical.
As matérias informativas, nunca confundíveis com opinião, são abordadas numa visão global, mas tratadas na perspectiva regional.
A publicidade é distribuída ao longo da programação, por diversos blocos curtos, valorizando o produto radiofónico e a própria mensagem comercial.
Radio contacts
FAX : 266 700 555
EMAIL REDACÇÃO : [email protected]
EMAIL COMERCIAL : [email protected]