Stand with Ukraine. Save peace in the world!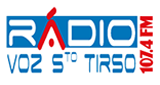 Radio Voz de Santo Tirso
Santo Tirso, 107.4 MHz FM
Rádio Generalista com uma programação diversificada, promovemos a interactividade com o auditório através de conversas, passatempos, acções de rua, pedidos musicais e muita música!
Show more
Radio Voz de Santo Tirso reviews
Brasil São Paulo, Procurando por Radio em Portugal , encontrei essa não deixei mais. Muito boa Abraços aos nossos irmãos. obrigado

Simone Goncalves

17.08.2022

A melhor radio do mundo vocês são fantásticos adorovos

Antonio Ferreira

01.05.2022

Sem dúvida a melhor rádio gosto muito

Teresa Ferreira

31.01.2022

Um espectáculo esta radio

Bom dia Camilo já tinha saudades de o ouvir.

Luisa Jesus Coelho Teixeira

30.08.2021

Eu sou vossa fá ouso muito a radio. Gosto de ouvir o Manuel Carvalho, o Jorge e o Camilo.

Cidalia Campos

27.08.2021

Bjns Manuel eu vi ontem as notícias es o maior alegras toda a gente. Especialmente nos os emigrantes bjns da Bélgica

Maia Jose Antonio Silva

12.08.2021

Bom dia manel um abraço de lyon França.

5estralas desde andorra

Manuel Carvalho

30.05.2021

bom dia. Aqui . manuel carvalho e ismael de paris . Te de sejamos um bom programa Um abraço
Information about the radio
Por os nossos ouvintes fazem parte da nossa equipa: contamos consigo todos os dias!
Obrigado por escolher a Rádio Voz Santo Tirso 107.4FM!
Radio contacts
https://www.instagram.com/radiovozdesantotirso