Stand with Ukraine. Save peace in the world!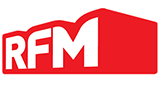 RFM
A RFM é a rádio das grandes músicas! Do Café da Manhã com o Nilton, Pedro Fernandes e a Mariana Alvim. É a do Top 6 às 6, do Top 25 RFM, do Wi-fi, do Oceano Pacífico, das 10 músicas seguidas, do RFM Somnii. É também a do Paulo Fragoso mete a cunha ao chefe, dos Fridayboyz, do fimdesemanista e muito mais. É a tua rádio!
Show more
RFM reviews
BOA MERDA~

alcestes ramos

01.08.2022

PROGRAMAÇÃO MARAVILHOSA PARABENS AQUI E O OUVINTE ALCESTES RAMOS DE VILA VELHA ESPIRITO SANTO BRASIL ABRACOS

viro o disco y toco mesmo

..

Biljana Mitrovic

03.02.2021

Após muito tempo estou ouvir o vosso muito bom rádio, abraço forte e beijo grande para todos vós e meus grandes amigos portugueses, sóu Biljana e vivo em Sérvia

goede muziek op rfm luister altijd als ik in portugal ben. in de auto radio of via de tv / pc

Almir Da Silva Souza

29.06.2020

Moro no Rio de Janeiro- Brasil

sou do brasil gosto de ouvi esta radio
Information about the radio
RFM é a tua rádio com o Café da Manhã com Nilton, Pedro Fernandes, Mariana Alvim e António Raminhos - é aqui que podes ouvir os telefonemas do Nilton, as Marias do Raminhos, o "Já chega de homens" da Mariana Alvim, o Párem lá com isso... É na RFM que podes ouvir o José Coimbra, o Paulo Fragoso, a Carolina Camargo com o Top 6 às 6, o BFF com a Joana Cruz e o Rodrigo Gomes e logo a seguir o Oceano Pacífico com o Marcos André. Podes ainda ouvir o João Porto, a Catarina Figueiredo, o Top 25 ao fim de semana, o RFM Somnii Radio Show, a Ana Colaço, o Daniel Fontoura. Estamos aqui todos a contar contigo. E é por estamos contigo 24 horas por dia que consideramos que fazes parte da equipa.
Radio contacts
https://www.instagram.com/rfmportugal/
https://www.youtube.com/user/RFMvi