Stand with Ukraine. Save peace in the world!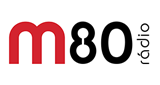 M80 Radio
O pop, o rock, a música de dança, as baladas, as bandas, os artistas, os temas que toda a gente conhece estão todos na M80 Rádio no seu estado mais genuíno. Porque é assim mesmo que continuam a provocar emoções. Se a sua vida tem uma música, ela toca na M80!
Related radio stations
Show more
M80 Radio reviews
Nataliya Pavliv

30.01.2021

Super Music!!!

Grandes musicas, que faz lembrar a minha infância, além do mais tem uma equipa de grandes profissionais.

wilian figueredo ribeiro

04.05.2020

ola sou de Santarém no PARÁ, Brasil, gostei da rádio, manda alo ae, wilian ,gleice e sofia. antenados na programação valew

Boa Radio!!!

As manhas ultimamente sao de um mau gosto enorme

Bom dia moro em Soledade no Estado do Rio Grande Do sul Brasil parabéns a Radio é top

Moro no Brasil em São Paulo e adoro essa rádio. A conheci meio por acaso até então não paro de ouvir parabéns pela qualidade da programação.E se possível gostaria de ouvir com voçes Water From the Moo da CELINE DION.