Stand with Ukraine. Save peace in the world!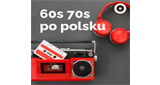 Radio Open FM - Po Polsku 60/70
Open FM znajdziesz muzykę dostrojoną do Ciebie i przez Ciebie. W ofercie ponad 100 stacji, które specjalnie dla Ciebie przygotowujemy każdego dnia, znajdziesz stacje poświęcone konkretnym brzmieniom i gatunkom (np. Impreza, Disco Polo, Hip-Hop PL czy Classic Rock), ale również nastrojom (m.in. Happy, Sad, Relaks) i sytuacjom, w jakich towarzyszy Ci muzyka (kanał Nauka czy stacje z kategorii Sport i Do Auta).
Related radio stations
Show more
Radio Open FM - Po Polsku 60/70 reviews
Krystyna Kosyło

19.04.2023

Dla mnie najlepsza muzyka.Tego chce się z przyjemnością słuchać.

Dariusz Stanislaw Klosowski

07.09.2022

czesc chcem pozdrowiem pieknie piosenki z roku 60/70 po polsku lubie sluchadz ten stare piosenki

radio bajka

Boris Pushinsky

01.07.2019

ucze sie jezyka polskiego, pomaga mi te radio. i podoba sie. fajna byla wtedy muzyka.