Stand with Ukraine. Save peace in the world!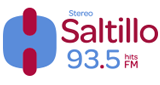 Stereo Saltillo
Emisora que difunde desde Saltillo, brinda amplia variedad de géneros musicales para el entretenimiento del público, ofrece notas de actualidad, información actual y noticias internacionales, transmite durante las 24 horas.
Show more
TOP songs on Stereo Saltillo
Stereo Saltillo reviews
Buenos dias disculpen tengo desde el viernes que no se escucha la programacion he revisado las paginas de stereo saltillo y no se escucha probe con otras estaciones como radio concierto saltillo y las demas si se escuchan solo esta no se escucha. Yo escucho a Victor Rivera todas las mañanas en el desmodorre desde Tampico Tamaulipas. Por favor revisen su conexion Gracias. DIOS LOS BENDIGA

Raul Rodriguez Millan

03.08.2020

Tiene varios días que no se escucha la emisora por internet. Saludos desde Tampico.

Gabriel Leyva Martinez

02.08.2020

revisen su conexion a internet no se escucha nada

Rafael Alonso Charles

25.06.2020

gracias por tener musica inolvidable , saludos desde garcia, nuevo leon.

Carlos Balderas

22.03.2020

Stereo Saltillo me gusta mucho, incluso me encantaba, era mi favorita, no escuchaba otra, pero últimamente están incluyendo estilos musicales que en mi opinión no van aquí, medios rancheros, medios cumbia... y eso me ha hecho empezar a cambiar de estación. Creo que para rancheros y cumbias ya hay muchas otras estaciones.

Buenas noches tardes días depende la hora que le vean ..me podrías complacer con la canción de enrique iglesias..nunca te olvidare..para Lorena Gutiérrez blanco...grasias

Alejandra flores

15.03.2019

Qué tal buenas noches me gustaría saber más sobre el sorteo de los boletos de Camila 😍

ADRIANA TRUJILLO ME PONES UNA CANCIÓN DE MALUMA LA DE FELICES LOS 4 ESPECIALMENTE PARA TI PARA VÍCTOR RIVERA MAFER ORTIZ Y PARA MI
Information about the radio
XHQC-FM is a radio station on 93.5 FM in Saltillo, Coahuila. The station is owned by Multimedios Radio and carries a pop format under the Stereo Saltillo name. It is similar to the Hits FM stations operated by the same group.

XHQC received its first concession on July 15, 1985, making it Saltillo's second station on FM and first new FM station since 1968. The concession was held by Jorge Campo Rodríguez until 2000, but in actuality, it was the first station in Saltillo to be operated by Multimedios Radio.
Radio contacts