Stand with Ukraine. Save peace in the world!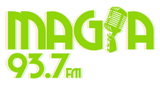 Magia FM
Una emisora transmitiendo desde Xalapa, Veracruz. Puedes escuchar los mejores éxitos del recuerdo y programas más diferentes en 93.7 FM.
Magia FM reviews
Gabriela Sanchez

13.11.2023

Buenas tardes felicidades por sus programas un favor si me pueden mandar la información de los medicamentos que estuvieron

Betty Martinez

09.10.2023

Excelente radiodifusora siempre me ha gustado..y la sigo eschando ..antes la podía escuchar en la app Radio México ..

Jose Luis Landa

07.07.2023

Excelente difusora con una programación de primera,los felicito sigan adelante, y no cambien nunca.

Sara Garcia Hidalgo nació en Orizaba la ciudad de las aguas alegres.

Mariana Ibañez

10.05.2021

Hola buenos días quiero mandar saludo para mi mama carmela ochoa bello dile que es la mejor mama del mundo que la quiero mucho ella te escuchan en juan de la luz enrique municipio de puente nacional ponerle la canción de los tigres del norte madre querida

Brivelino Bar Mor

16.02.2021

Saludos a mi gran amigo Reynaldo, mejor conocido como Nemorio, un hombre muy culto y muy trabajador, si tuvieramos en cada pueblo una persona que conociera y quisiera tanto a su pueblo como él, nuestro México sería otro.

Me puede poner la canción de Mecano hijo de la luna para la familia rivadeneyra

Karola Castillo

27.01.2021

PORFAVOR FELICITEN A MI MAMI HILDA CEBALLOS DORANTES ES SU CUMPLEAÑOS QUE LA AMO MUCHO Y LA QUIERO Y LE MANDO MUCHOS BESOS Y ABRAZOS A LA DISTANCIA LE MANDO TODOS MIS MEJORES DESEOS YA QUE POR ESTA PANDEMIA NO PODEMOS VERNOS. GRACIAS DE PARTE DE SU HIJA KARINA

Griselda Ramos

29.08.2020

Una complacencia durante la hora de José José..para mi mamá Sra. Griselda Rella vda. De Ramos ... " Soy tu primera vez " POR FAVOR

Excelente música de Jose Jose. Quiero un Ramo de rosas para mamá.