Stand with Ukraine. Save peace in the world!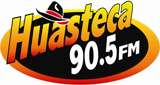 La Huasteca
Tempoal de Sánchez, 90.5 MHz FM
La Huasteca 90.5 FM es una emisora líder en la programación Mexicana. Trasmite los géneros grupero, vallenato, pop, balada romántica y bolero. Es una emisora para los que gustan de la cultura mexicana más autóctona y verdadera.
Show more
La Huasteca reviews
Lupita Hernandez

28.04.2023

Saludos desde Zapopan Jalisco y un saludo para mis papás Miguel antonio y rosa Alvarado que se encuentran en atexcal platón Sánchez .

Buenos días un saludo para Teo que apanas va Acer la comida y la suegra que está lavando aquí en San Martín tamapatz

Buen dia muchos saludos a todos mi hermosa huasteca, un saludo a la comunidad el jaguey chincontepec a la familia Hernandez Olivares desde Apodaca NL, pronto andaremos por mi bello pueblo.

Saludos desde Monterrey a todos del la comunidad de aquíchal chijolar

Jose juan Torres

31.10.2022

Un saludo para la familia Mateo torres de palmar segundo

Saludos al palmar San Gabriel de la familia Hernández Flores desde monterey

Pedro Bautista

21.08.2022

Excelente programación saludos desde Monterrey NL

Saludos hasta cedral

C Anastasio Del Angel

07.08.2022

Saludos para mi familia de tantoyuca cerro mirador para mí carnal Roberto y mi mamá leonila Francisco de parte ING. Castro desde Monterrey...

felix santiago

02.08.2022

saluos para la señora norberta torres de la colonia banrrural , desde cd juarez chihuahua
Information about the radio
La Huasteca 90.5 FM, es una oportunidad para votar por los artistas mexicanos de su preferencia y por los programas que más le gustan de La Huasteca 90.5 FM.

Mediodía Huasteco y MN Nuestras Noticias son algunos de los programas más populares de La Huasteca, una emisora online que lo tiene todo desde que México amanece. Grupera, de banda, ranchera, y country tiene sitio aquí, para que usted disfrute con amigos o familia.
Radio contacts