Stand with Ukraine. Save peace in the world!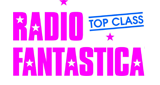 Radio Fantastica
Fantastica è la radio delle 100 canzoni del momento, una radio fresca, giovane, ideale per studiare, lavorare o semplicemente rilassarsi.
Show more
Radio Fantastica reviews
Rodolfo Bagnarello

05.08.2021

Ciao Radio Fantastica! vi ascolto dal Costa Rica America Centrale.

Ottima radio complimenti vi ascolto dal 2004

La escucho desde Lima Perú, en esta radio sí suenan las primicias y muy buenos temas!!! Me encanta, di con ella x casualidad has 6 años!
Information about the radio
Cento canzoni, le più richieste, solo i grandissimi successi del momento, in continua rotazione per tutto l'arco delle 24 ore, intervallati solamente da un'informazione agile e immediata più alcuni programmi:

FANTASTICA STORY (un "assaggio" delle canzoni storiche di Fantastica degli ultimi 10 anni), in onda ogni ora dalle 6.30 alle 23.30.
Top 100 (5 short di brani dell'airplay in versione classifica), ogni ora dalle 00.52 alle 23.52.


Frequenze

Lombardia
101.500 Milano

Piemonte
89.300 Torino e Prov.
103.250 Ivrea e Canavese
87.800 Novara e prov., Vercelli e prov.
89.100 Cuneo e prov.
89.500 Pinerolo e Pinerolese, prov. CN e TO
89.100 Asti e prov.
89.800 Asti e prov.
89.350 Alessandria e prov.

Liguria
101.200 La Spezia, Bassa Val di Vara

Toscana
101.500 Pisa, Lucca, Livorno, Montecatini T.me, Empoli
91.700 Vernio, Vaiano

Sicilia
89.200 Catania
88.500 Palermo
97.500 Trapani, Marsala, Mazara del Vallo
Radio contacts