Stand with Ukraine. Save peace in the world!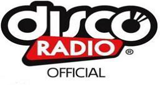 Discoradio
Discoradio è la radio leader in Lombardia e Piemonte sul target 18-44 anni. Protagonista è la musica che scandisce nelle 24 ore "il ritmo della città": più accogliente al mattino, sempre più vivace col passare delle ore.
Show more
Discoradio reviews
👌👌👌👌🫣🫣🫣super

super

super ...

A Top Rádió 2003 óta 👌👍🎻❤️✔️

Mateusz Michalski

08.04.2021

Super radio

Antonio Tortoriello

30.11.2020

Simpatici dj , bella musica , ascolto sempre questa radio ...ah alzate il target a 53 anni che è meglio....

Mi piace molto questo radio! Complimenti!
Information about the radio
Discoradio è attenta alle novità musicali da tutto il mondo, e tutti i giorni, ogni ora, segnala un brano che diventerà uno dei più forti della città. Dalle novità ai successi che hanno fatto la storia del ritmo, Discoradio suona "tutte le hit più ritmate dal '90 ad oggi".
La giornata è accompagnata da conduttori dinamici, sempre vicini agli ascoltatori e al territorio e coordinati dalla redazione che assicura grande attenzione ai temi più attuali.
Discoradio è anche un costante collegamento con quello che succede in città grazie all'attualità di Link, dal lunedì al venerdì ogni 30' tra le 6 e le 12 e tra le 15 e le 21. E poi ancora con le info sul traffico e il meteo in città. Senza dimenticare i temi legati all'ambiente e al wellness, e la pagina degli appuntamenti più forti in città.
Radio contacts
https://www.instagram.com/discoradioIT/