Stand with Ukraine. Save peace in the world!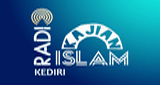 Radio Kajian Islam
Radio Kajian Islam Ilmiah Online. Mengenal Indahnya Sunnah Sesuai Pemahaman Para Salafush Shalih Ahlus Sunnah wal Jama'ah
On the air Radio Kajian Islam
| | |
| --- | --- |
| Live | Ustadz Najmi Umar Bakkar - Ruqyah Yang Menyimpang |
| 01:57 | Ustadz Muhammad Azmi Abdullah - Mengapa Allah Mengujiku |
| 00:43 | Ustadz Sofyan Chalid bin Idham Ruray - 10 Pilar Sukses Mendidik Anak |
Radio Kajian Islam playlist
Radio Kajian Islam reviews
Kajian Islam Online via Radio semoga bermanfaat untuk semua

SD ISLAM TERPADU AL-ATSARY

06.09.2022

Alhamdulillah bisa didengar dari seluruh penjuru dunia selama ada koneksi internet.

Jazaakumullah katsiran katsira..

Erfansyah Hakim

10.01.2022

Jazakumullah, saya baru tahu tadi malam ada radio online kajian sunnah di kediri

Muhammad Ismail

04.01.2022

Saya sangat bersyukur karena bisa mendengar radio Kajian Islam ini dimana menambah pengetahuan saya tentang agama. Sekedar masukan sebelum mulai ceramah ada baiknya di infokan nama ustazd yg membawakan ceramahnya agar kami pendegar mengetahui nama ustazd 🙏🙏🙏

Jernih suaranya dan bisa didengarkan dimana mana pokoknya mantap

Umi Siti Asiyah

16.08.2021

Alhamdulillah Lancar

Assalamualaikum warahmatullahi Wabarakatuh

Labib Media Net

23.06.2020

Barakallahu fiikum

TTQ PAUD Qurrota A'yun Plemahan Kediri

15.06.2020

Radio kajian islam ini semoga membawa manfaat bagi bapak/ibu yang mendengarkan dimanapun berada.Barakallahu fiikum.