Stand with Ukraine. Save peace in the world!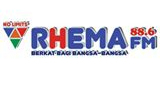 Radio Rhema
Radio Rhema mulai mengudara pada bulan April 2001 dengan siaran percobaan, dan diresmikan pada tanggal 24 November 2001 oleh Pdt Petrus Agung Purnomo. Diawali dengan siaran 19 jam sehari mulai dari pukul 05.00 WIB sampai pukul 24.00 WIB, namun sekarang Radio Rhema selama 24 jam sehari memberitakan Injil di daerah Semarang dan kota-kota di sekitarnya.
Radio Rhema reviews
charles danjos

24.03.2021

Siaran yang menjadi berkat. GBU all

Lorensius Sandi

12.01.2020

Syalom.... Salam dari Kalimantan Barat.

budiman sitepu

04.06.2019

Terimakasih, untuk siaran Radio Rhema,....benar2 menjadi berkat.

Siska Van Siahaan

04.05.2019

kk gmn mau dwld apliks dr laptop...?
Radio contacts
https://www.instagram.com/rhemaradiosmg/
SMS Center : 081-2289-8855