Stand with Ukraine. Save peace in the world!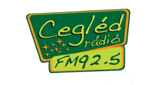 Cegled
Cegléd, interaktív, szórakoztató kereskedelmi rádiója az FM 92.5-n!
Cegled reviews
Krisztian Harsanyi

01.12.2022

Nagyon jó a radio!!!

Nagyon jó radio!!!!!!

Kedves emberek! Tetszett mert kedvenc esetemet elevenen tetted elejben! Ez Neked nem lehetetlen . Ejnye bejnye U-40 kedvencem , de nem lehetett nyelvedre letepernem. Szeretettel: Etele

Tisztelt Szerkesztő! Nem vagyok vájt fülű,de azért unalmas mindennap, többségében ugyanazon zeneszámokat hallgatni csak más időpontban lejátszva. van olyan előadó akár Magyar, akár külföldi akiktől szinte csak mindig ugyan az az egy jobb estben két szám szól. Sajnos nem tehetek mást hallgatnom kell mivel a munkahelyemen ez az adó szól, bár a fejem már szétmegy az unásig ismételt számoktól. Ráadásul a riportjaik unalmasan monotonok, álmosítóak, néha érdektelenek ( ez más adókra is jellemzőek).Így marad a netes zenehallgatás Radics Bélától - napjainkig vegyesen és változatosan. Tisztelettel egy kényszer hallgatójuk.