Stand with Ukraine. Save peace in the world!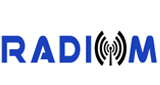 Rádió M
A Ma és a holnap ritmusa, ez a Rádió M. Már a szlogen is sugallja, a miskolci Rádió M-nél a hallgatók elé tárják a legújabb zenei újdonságokat, de a kínálatban megtalálható a minden korosztályt kielégítő slágerek az elmúlt évekből. A megyeszékhely mellett Tiszaújvárosban, Kazincbarcikán és Ózdon is fogható a Rádió M, de internetkapcsolattal a világ bármelyik pontjáról hallgathatjuk.
Rádió M reviews
Krisztian Harsanyi

27.12.2022

Nagyon szuper a radio!!!

Nagyon jó radio!!!!!!

EZ A KEDVENC RÁDIÓM !!!!!!!

György Dévényi

05.12.2019

Nagyon jó

Olyanok vagytok mint a gazdáitok,a fidesz !

Tiborné Kovács

15.04.2019

Borzasztó, hogy már kb. 3. hete mindig ugyanazok a "slágerek" szólnak! Unalmas és egyhangú! Már tudni lehet, hogy mi után, mi fog következni!

Egyszerűen bomba jók vagytok !