Stand with Ukraine. Save peace in the world!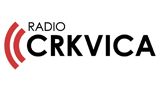 Radio Crkvica
Radio Crkvica je mali neprofitni radio na valovima milosti, volontirajući stvaramo radio koji i sami volimo slušati. Teme koje nas posebno zanimaju su katolička vjera, zdrave životne navike, ekologija, vrtlarstvo... Program emitiramo svaki dan od 7:00 do 00:00.
Radio Crkvica reviews
Verica Carević

10.05.2022

Kamo trebam ići, što trebam činiti, što je milo tebi, Bože?

Još malo pa savršeno! :)

Vlasta Filipović

23.04.2022

❤️❤️❤️❤

Jasminka Bunjacki

23.04.2022

Crkvica, svako jutro budi novu nadu, prozori u novi dan suncem ili kišom obasjan. Milost za uši, to je radio Crkvica.

Konačno pravi sadržaj i prava glazba na radiju, to je radio Crkvica! Samo tako naprijed uz Bozji blagoslov!

Super.

Napokon radio za mene!