Stand with Ukraine. Save peace in the world!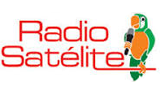 Radio Satélite
Villa de San Francisco, 790 kHz AM
Una variada y amena programación llena de sorpresas y entretenimiento les regala a sus oyentes Radio Satélite. Emisora que se transmite en vivo desde Tegucigalpa a través de la frecuencia 790 AM. En esta radio se ofrecen las noticias más relevantes de esta región, interesantes informaciones, deportes, participaciones artísticas de conjuntos nacionales, música selecta y programas en vivo con artistas nacionales. Los artistas preferidos por los oyentes de Radio Satélite, desde la 790 AM, son la Arrolladora Banda el Limón y Jeny Rivera, entre otros.