Stand with Ukraine. Save peace in the world!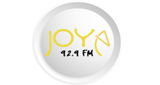 FM Joya
Guatemala City, 93.3 MHz FM
Emisora que te brinda un extenso repertorio de música clásica, con los mejores hits, que te llevan a recordar épocas de antaño.
FM Joya reviews
Porqué será que en ésta radio no ponen musica de artistas Guatemaltecos?? cual es la causa, es bien notado que no importa que los artistas Guatemaltecos tengan buenas grabaciones, buenos temas, que hayan tenido exito, etc ... no los programan, ...programan musica del recuerdo pero NO de Artistas Guatemaltecos, musica mas reciente, pero NO de Guatemaltecos,... Cual es la razon, Malinchistas?