Stand with Ukraine. Save peace in the world!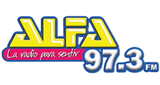 Alfa FM
Guatemala City, 97.3 MHz FM
Alfa La Radio Feeling ha capturado los corazones de miles de personas que nos siguen en todo el mundo desde nuestros inicios, transmitiendo la mejor música, un excelente programa con los lanzamientos musicales, noticias del mundo del espectáculo, entrevistas con artistas de tiempo y sujetos de recuerdo.
Alfa FM reviews
buenos amigos de alfa saludos es fundamental el deporte en todas las etapas, hay muchos que han ido a mundiales como el softball tanto masculino y femenino

Buena programación, me encantan los jueves de Alfa recuerdos saludos desde Houston Texas

Excelente progra, felicidades

Denis Ricardo Chuy

15.10.2020

no dan los saludos que mal

Ernestho Tobar

10.09.2020

La mejor los escucho desde el salvador

Excelente progra

Mauro Villanueva Santos Lopez

03.04.2020

Igual no he logrado escuchar Alfa en aplicaciones de Radio. Y he probado varias

Porque la radio siempre en las aplicaciones no se escucha 😔