Stand with Ukraine. Save peace in the world!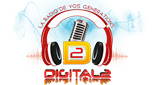 DIGITAL 2 (HD)
Bienvenue sur les Hits de vos Générations, DIGITAL 2 est votre radio dédiée à la Musique des Années 70's et d'aujourd'hui, et les plus grands succès de la chanson française et internationale d'hier à aujourd'hui. Des titres rares remastérisés et inédits jamais diffusés sur aucune radio ,DIGITAL 2 vous les fait redécouvrir ! Classic Hits ,Pop Music, Romantic.Écoutez plus tôt et vous ferez votre choix et en versions HD . DIGITAL 2 The Radio From Your Génération. : Les plus Grands Succès des Années 70's à Aujourd'hui
DIGITAL 2 (HD) reviews
j'aime cette radio depuis 2017 et je m'en lasse jamais elle me fait rêver des slows a faire frissonné et des chansons qu'on a vraiment envie d'écouté jusqu'au bout de la nuit , et je m'en lasse que je soit en France ou a l'étranger pour mon travail très pro !!! pas de pub que de la bonne musique française et étrangère des chansons superbe qu'on ne peut écoutez sur cette webradio et que je n'entends pas sur aucune autres, je ne la quitte plus bravo DIGITAL 2 journaliste animateur pro que du bonheur et les jingles trop top !! longue vie super !!! I'm in love with your webradio.......

Digital 2 est une excellente webradio. Programmes et programmation musicale diverses et variés de très grandes qualités. J'ai jamais vu un son pareil aussi bon et en plus en haute définition c'est le top. Musique toutes génération des années 70 à aujourd'hui avec chanson française, variété française et internationale, pop, rock, soul, folk, disco, funk, slow et ballades, c'est super.

J aime cette Web radio son parfait et qualité musical succès sur succes de 70 à aujourd'hui je ne m'en lasse pas👍👍👍👍👍❤❤

j'ai jamais écoutez un son pareil superbe radio "" hits du moment , slow ,pop rock, disco , funk new wave années 80 's et en version Maxi svp ! le son en HD je confirme continuez comme ca et je changez rien DIGITAL 2 je Kiff.......

Digital 2 est une excellente webradio. C'est diverses et variés, il y en a pour tous les goûts et tous les âges. C'est super et génial de l'écouter autant comme ça !

good !!!!!!!!!!