Stand with Ukraine. Save peace in the world!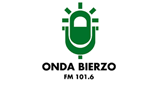 Onda Bierzo
Emisora Local en Ponferrada, El Bierzo, Laciana y Valdeorras 101.6 FM
Show more
Onda Bierzo reviews
Desiree Arends

22.01.2022

¡Qué ilusión poder escuchar la radio del Bierzo estando lejos en el extranjero! Mi mejor método anti-morriña … faltan sólo unos chorizos de matanza del pueblín 🥰 para el nirvana

ROBERTO LOPEZ MAYORGA

04.01.2022

Desde Burgohondo (Ávila) animando a la SD Ponferradina

maria emilia fernandes senra

23.12.2021

Es la emisora k siempre m acompaña gracias

Aleix Puig Fernández

15.12.2021

Saludos desde Barcelona (badalona) apoyando al guardameta Sergi Puig

Jaume Gonzalez

15.12.2021

Saludos desde minas d riotinto animando a la ponfe

Jose Lopez Alvarez

11.01.2021

Te

Muy buena Transmision. Saludos desde Argentina. Alentando a la Deportiva !!!

Belarmino Fernández Caurel

13.02.2020

DESDE CATALUÑA FELICIDADES EN EL DIA DE LA RADIO,

Jhon Dario Salazar Restrepo

09.01.2020

SALUDOS DESDE MEDELLIN COLOMBIA,POR VEZ PRIMERA LOS ESCUCHO

manuel moran garcia

14.12.2019

¡150 goles con la Deportiva del "viejo", del "acabado", del "que no corre"! Muy bueno, Toño, un abrazo, nos vemos en El Bierzo en una semana!!
Information about the radio
Onda Bierzo – onda cero la radio de siempre, desde 1987 poniéndole voz a las cosas del bierzo, valdeorras, laciana y cabrera.

Esta es nuestra programación local de lunes a viernes: 7:55 primera edición de noticias
8:20 segunda edición de noticias
12:30 protagonistas bierzo
13:30 edición mediodía de noticias
14:30 onda deportiva
19:00 tómate tu tiempo
19:40 edición cierre de noticias

el sábado:
12:00 protagonistas bierzo
13:30 edición mediodía de noticias

y cada fin de semana el partido de la s.d. ponferradina, la única emisora que transmite en directo todos y cada uno de los partidos del equipo de nuestra tierra, liga y de copa del rey.

Europa fm Bierzo en el 87.9 de la fm, donde encontrarás el mejor pop/rock de los 90 hasta hoy, con programas como levántate y cárdenas, euroclub, ponte a prueba, la noche es nuestra, ¿me pones?, europa baila... Europa fm Bierzo 87.9 fm
Radio contacts