Stand with Ukraine. Save peace in the world!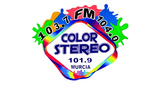 Color Estéreo 103.7 & 104.0
Color Estéreo, La soberana del aire, 103.7 & 104.0, la primera emisora latina en la región de Murcia, desde 2001.
Color Estéreo 103.7 & 104.0 reviews
Gabriela Alexandra

31.03.2023

Un saludito por favor para walter Saransig desde Portugal

Como se llama la empresa que lleva personal a Francia? Gracias

Flora Maestre García

28.01.2022

Hola Buenas, Quiero Mandar un cordial saludo 👋 con un fuerte abrazo para mi mejor amiga: Monica Yasmin jara Toledo (Mi negra Bella) que está cumpliendo hoy sus 30 Añazos, ¡que viva la cumpleañera!! Y que cumpla muchos más

Un saludo para el parceroo. Que chimbaaa

julio jaramillo

13.04.2020

Saludos desde ecuador excelente radio color estéreo

j.c.f_carlos duy

22.02.2020

Como hago para entrar en los sorteos que tengo que hacer gracias jajaja

Alberto Landeta Guevara

19.12.2019

escuchando radió color en el sorteo del pasaje del banco del Austro

Carmita Bachita Landin

15.11.2019

buenas noches de dios felicidades que siga con su bonito programa y sus chistes todo es muy bonito xq la bailaterapia nos hace muy bien recordando nuestro querido pais ecuador querido felicidades bendiciones y salu y que siga y cumpliendo mas graciasssssssss

Martha Virillas

03.11.2019

Pues no entiendo a los inmigrantes que apoyan a Vox, en que mundo viven, ¿o es que ellos reciben un trato mejor que los demás desconocemos? Me parece muy acertado vuestro comentario.

Éxitos y bendiciones a todo el equipo de Color Esterio saludos desde Barcelona rumbo Suecia ful sintonía en carretera.