Stand with Ukraine. Save peace in the world!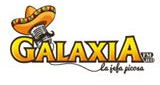 Radio Galaxia
Oficialmente Galaxia Súper Stereo, nace a nivel nacional en el año 1997 con la Maratón del Humor junto al colombiano José Ordoñez. Era la época del Fenómeno del Niño y Galaxia arrasó con su nueva propuesta musical, algo totalmente distinta y novedosa a lo que se realizaba en las FM hasta ese momento. La música ranchera, el tex-mex y la cumbia-tex, se impusieron en todo el Ecuador.
Radio Galaxia reviews
No puedo escuchar lo e tratado en varias plataformas del celular no es posible pero si los escucho en la plataforma de la tables. Gracias

Leonardo Molina

04.02.2023

Muy buena emisora saludo mi jente ecuatoriana saludos desde España

Veronica Astudillo

18.01.2023

Saludos desde Barcelona España lo máximo radio Galaxia

Norma González

03.11.2022

no puedo visualizar

Buenísima

Hector Fernando Cordero Collantes

17.09.2022

Un saludo para Héctor. Allá en Samucor muebles .. los mejores en restauración y fabricación

juancarlos sanchezrobayo

18.08.2022

saludos desde zamora

Marhgarita De Zambrano

15.05.2022

Excelente excelente radio

Saludos desde Venezuela estuve 2 años en Ecuador y era mi emisora preferida aun aquí en mi país las escucho

roosvel briones

10.04.2022

Saludos a Jovita saldarriaga de su hijo el negrito. Que todos los días a sus 80 años. Escucha galaxia. Que le traen muchos recuerdos bonitos.