Stand with Ukraine. Save peace in the world!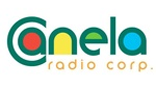 Canela
Radio que difunde contenidos variados para informar a través de las noticias y entretener al público, por medio de música de géneros que son los más populares de la actualidad, transmitidos las 24 horas los 365 días del año.
Show more
Canela reviews
Muy buena radio saluda desde España a todas las madres de Ecuador feliz día y en especial a mi madre que está en Quito desde Madrid Renan F.

Arboleda Rosaflorida

13.03.2023

Excelente emisora Saludos desde Nariño Colombia. favor colocar un tema de los iracundos. las puertas del olvido

Hector Fernando Cordero Collantes

17.09.2022

Un saludo para Héctor allá en Samucor muebles .. los mejores en restauración y fabricación de muebles

christian erazo

24.06.2022

Donde encuentro las grabaciones que están pasando? Por ejemplo la de leon frost.

Christian Javier

27.04.2022

Arreglen su huevada

David Alejandro

26.04.2022

Arreglen el link, no reproduce la radio en vivo

Gerardito Guanopatin

22.04.2022

Saludos cordiales desde Allentown Pensilvania 👍😎🇪🇨🇪🇨🇺

Patricio Toapanta

05.04.2022

Ostia tío que os pasa no sale la señal vía Internet que carajos pasa os quiero escuchar y nada Venga tío os saludo desde Barcelona

axel el crak!!!

03.04.2022

Hola .. saludos desde España... Valencia.... excelente música...45 revoluciónes

Santiago Fonte

30.03.2022

Canelocos sean espontáneos deje que el loco se explaye uds están ya amalgamados. Son chistosos espontáneos, se vuelven aburridos cuando se cuidan y frenan a Baldeon.
Information about the radio
Programación:

LUNES A VIERNES

06:00 A 08:00 - A FILO DE CAMA
08:00 A 10:00 - RADIACIÓN TEMPRANA
10:30 A 12:00 - CANELA HOT BREAK
12:00 A 14:00 - TROMPAS DE FALOPIO
14:00 A 16:00 - VAGOS CON SUERTE
16:00 A 18:00 - RADIACIÓN TEMPRANA ENTRE PANAS
L-J: 16:00 – V: 08:00 - EL SHOW DE JOSEMA, PAQUIRRI Y EL SHAFA
18:00 A 20:00 - ENERGÍA CUÁNTICA
20:00 A 22:00 - HABITANTES DE LA NOCHE

FIN DE SEMANA

06:00 A 08:00 - SONIDOS DE LA PACHA MAMA
08:00 A 10:00 - SEÑORA CUMBIA
18:00 A 20:00 - ENERGÍA CUÁNTICA
Radio contacts