Stand with Ukraine. Save peace in the world!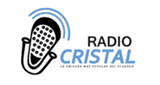 Radio Cristal
Radio Cristal es una exitosa y tradicional emisora guayaquileña que se trasmite en AM y tambien en Internet.
Show more
Radio Cristal reviews
Felipe Giraldo

03.09.2023

Saludos desde Pereira Colombia,gracias a la república del Ecuador por habernos dado al Ruiseñor de América.Felipe Giraldo

Samuel Godines F

26.08.2023

desde Matamoros, Tamaulipas. México. ESCUCHANDO A RADIO CRISTAL

Edgar Teofilo Coquinche Yumbo

25.06.2023

Estamos escuchando su programación pasillos y algo mas en el Quinche.

Carlos Estuardo Caicedo Vargas

11.06.2023

Carlos estuardo Caicedo Varags, excelente programación. Saludos desde Pisa, Italia

Saludos cordiales a la mejor radio del Ecuador desde Madrid España

saludos desde dallas texas tony nieves amo a ecuador como si fuera mi tierra.

Buenos días mi querida radio cristal en Guayaquil

Maria Pelaez Moscoso

13.03.2023

mary le saluda par ala ostiopeña que esbueno y trigliceritos altos

Felicidades por la calle que tendrá nombre de su señor padre..Don Bolivar Potes en el Guasmo ....

zeroxpro231 morales

01.01.2023

Buenas noches saludo para mi familia porfavor Morales Santana de la hermosa ciudad de Guayaquil
Information about the radio
Radio cristal es una exitosa y tradicional emisora guayaquileña que se trasmite en AM.

Su inigualable estilo de corte popular lo ha mantenido desde sus inicios en 1957 posesionada en los hogares de la costa ecuatoriana, sin embargo su fama y nombre han tenido trascendencia a nivel nacional.
Radio contacts