Stand with Ukraine. Save peace in the world!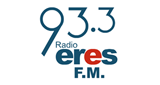 Radio Eres
93.3 FM Eres es todo un mundo con la mejor programación en música romántica de todos los tiempos. Queremos que te integres y formes parte de nosotros compartiendo tus más íntimos gustos musicales y disfrutando todo lo que eres.
Radio Eres reviews
Blanca Vinueza Cadena

01.10.2022

Mi radio amiga, linda música , me despierto con ustedes ,son la mejor.

Pablo Andres Borja Recalde

21.07.2022

Por favor, nunca de los nuncas cambien su formato, ya se fueron "Onda Azul", "Ecua Shiry", "Radio Colón", "Música y Sonido", etc. Esta emisora es la única sobreviviente y casi la única que ofrece música de verdad, así que por favor, manténgase fieles al estilo. Sólo les aconsejaría que cambien la pieza musical con la que se anuncia la hora, pues ya la tienen 26 años y no programen tantos temas de Julio Iglesias, por lo demás es un muy buen estilo. Sigan así!!

muy buena radio

Un fuerte abrazo al principal de esta linda emisora y a su equipo colosal. Sigan por siempre o mejoren.

John Jairo Restrepo Mejia

17.03.2022

Excelente emisora, presenta una variedad muy bien seleccionada. Estuve en Quito a principios de marzo de 2022 y la conocí en un radio de carro. Ya la sigo escuchando por internet desde Colombia

Gracias ,musica para escuchar.

Se puede enviar saludos al Aire???

Me gustaría que no identifiquen la estación cuando la melodía esté sonando

Ame la programación de hoy con música en francés, tal vez el nombre de los artistas?

Carmen Morocho

04.02.2022

Que hombres tan llenos de odio, vendidos a la oligarquia. Emisora tremendamente conservadora, que jamas estara del lado de la gran mayoria de ecuatorianos.
Radio contacts
Fax: (593-2) 2255 995
Casilla postal: 17-01-638