Stand with Ukraine. Save peace in the world!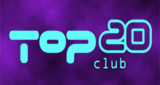 Top 20 - Club
Die Webplattform Top 20 verfügt über zwei Webradioprogromme, Videothek, Webseite mit Infos und verleiht jährlich den Top20 Award für besondere Leistungen. Top20club streamt 24/7 Club-Hits und am Abend DJ-Sets.
Top 20 - Club reviews
Jeden Morgen nach dem Aufstehen Radio Top 20 einschalten. Ich höre nichts Anderes mehr. Mich stören nur die ewigen überholten Wiederholungen aus der Coronazeit, wie die Außerirdischen mit der Bratwurst und Musik von Howard Carpendale, der über Monate Werbung für die Impfung im TV gemacht hat. Seine Musik habe ich der Mülltonne übergeben, sowie andere Kunstwerke anderer Künstler, die ebenfalls sich dem Corona-Regime angebiedert haben. Sollten Sie auch tun! Beste Grüße aus Sachsen von Groku

Top Sender für Menschen die das Denken noch nicht anderen überlassen haben. Einfach nur ein gutes Gegengewicht zur einseitigen Staatspropaganda.

Super Sender mit sehr guten ungefilterten Nachrichten und richtig toller Musik.

Maehtnix Maehtnix

30.05.2022

Hallo ich konnte bis gerade noch am PC hören jetzt nicht mehr was mache ich falsch

Ein Super Sender

super Musik - zwar total querbeet, aber das macht ja den Charme des Ganzen aus. Kein Systemgeseier und keine Heuchelei - eine Wohltat für die Ohren. Allerdings verstehe ich nicht, warum in der Maske ein Feld ist, in dem "Steht zur Ukraine. Rettet den Frieden in der Welt", steht. Ansonsten schnell zu meinem Lieblingssender geworden - weiter so!!!!

Ich habe schon seit langen kein Radio mehr gehört. Weil überall immer der gleiche Mainstream Mist läuft. Aber seit ich Top 20 Radio und Club höre, hat sich das geändert. Zwei tolle Sender, die uns hoffentlich lange erhalten bleiben werden. P.s würde mich freuen, wenn ihr etwas breitgefächerte Musik spielen würdet. Viele liebe Grüße aus Dortmund :-)

Nicky Richerzhagen

07.03.2022

balsam für die Seele und Gehörgänge

Dagegenhalten ist alles. Ich liebe Menschen die noch Eier haben. Bernhard Du bist der Börner.

gute Mucke, guter Inhalt. Danke, weiter so.
Radio contacts
Telefax: 030- 818290-23