Stand with Ukraine. Save peace in the world!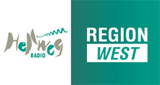 Hellweg Radio West
Hellweg Radio ist das Lokalradio für den Kreis Soest und sendet seit dem 1. Juli 1990. Wir spielen den besten Mix: "Kulthits und das beste von heute".
Show more
Related radio stations
Show more
Hellweg Radio West reviews
Information about the radio
Das tägliche Programm von Hellweg Radio besteht von Montag bis Freitag aus der Sendung 'Am Morgen' von 6:00 Uhr bis 10:00 Uhr und der Sendung 'Am Nachmittag' von 16:00 Uhr bis 18:00 Uhr. Am Samstag beginnt der Morgen mit 'Am Wochenende' von 6:00 Uhr bis 12:00 Uhr und nach 'JoWi' (Jobs und Wirtschaft) ab 12:00 Uhr folgt von 13:00 Uhr bis 15:00 Uhr die Sendung 'Die Charts'. Am Sonntag wird von 9:00 Uhr bis 12:00 Uhr und von 15:00 bis 18:00 Uhr die Sendung 'Am Wochenende' gesendet, wobei in der Nachmittagsausgabe Ergebnisse und Berichte der heimischen Sportereignisse gesendet werden, vorwiegend Fußballberichte und Ergebnisse der Mannschaften aus dem Kreis Soest.

Wochentags jeweils von 6:30 Uhr bis 19:30 Uhr zur halben Stunde sendet Hellweg Radio lokale Nachrichten aus dem Kreis Soest. An Samstagen und Sonntagen werden lokale Nachrichten jeweils während der lokalen Sendungen zur halben Stunde gesendet.

Von Montag bis Samstag in der Zeit von 21:00 Uhr bis 22:00 Uhr sowie sonn- und feiertags von 19:00 Uhr bis 20:00 Uhr sendet 'Radio Lippeland e.V.' auf den Frequenzen von Hellweg Radio den sogenannten Bürgerfunk. Dieses Programm wird nicht von der Redaktion von Hellweg Radio, sondern von freien Gruppen und Vereinigungen aus dem Kreis Soest gestaltet. Diese sind auch nach Landesrundfunkgesetz für NRW für den Inhalt der Sendungen verantwortlich. 'Radio Lippeland e.V.' stellt dafür die nötige Technik und Räumlichkeiten zur Verfügung und unterstützt die produzierenden Gruppen bei der Produktion der Sendungen. Zu den regelmäßig produzierten Sendungen gehört z. B. seit 1998 Metal Roundup, eine einstündige Sendung für Rock- und Metal-Musik.

Außerhalb der lokalen Sendezeiten übernimmt Hellweg Radio das Mantelprogramm (oder Rahmenprogramm) von Radio NRW aus Oberhausen für den lokalen Rundfunk in Nordrhein-Westfalen. Radio NRW liefert auch die Weltnachrichten zur vollen Stunde rund um die Uhr.
Radio contacts
Fax +49 (0) 2921 - 37710