Stand with Ukraine. Save peace in the world!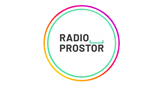 Radio Prostor
Prague, 89.8-106.3 MHz FM
Přinášíme informace, fakta, názory, osobnosti. Z domova i ze světa, z politiky, ekonomiky, byznysu, kultury, sportu, volného času... Máme co říci k většině témat, se kterými se každý z nás potkává na každém kroku. Zároveň nás velmi zajímá váš názor, ať už je jakýkoliv. Jsme tady pro všechny, kteří nejsou lhostejní k tomu, "kam ten svět spěje". Snažíme se o srozumitelnost, věcnost a neutralitu, to vše bez dogmat, předsudků či klišé. Chtěli bychom být součástí vašeho životního stylu. Věříme, že svůj prostor si u nás najde každý. Jsme RADIO PROSTOR. Pro vás. Pro každý den.