Stand with Ukraine. Save peace in the world!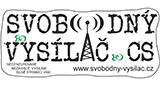 Svobodný vysílač CS
Svobodný vysílač CS je projekt svobodného internetového rádia Nemusíme mít vždy pravdu – neděláme si na ni monopol – sami hledejte – my Vám jen nabízíme možnosti k hledání
Show more
TOP songs on Svobodný vysílač CS
Svobodný vysílač CS reviews
Erika Borkovcová

01.04.2023

Pro mě super poslechové rádio a i super rozhovory. :)

Přečetl jsen si recenci jednoho člověka, který se schovává za vymyšleným jménem Kruci Písek.

Tak stacilo mi par minut abych pochopil ze uz i radio mohou tvorit lidi kteri nechapu vubec ale vubec nic a jeste si mysli jak jsou chytří. Udelejte neco pro demokracii a pro blaho naroda a zruste se sami, diky. Z toho co jsem tam slysel se mi chce zvracet. Obycejna komunisticka špína. A jeste ten nazev zavádějící . Nechutný , hnus opravdu .

Nškolik dní jsem toto rádio poslouchal a pochopil jsem, jak se vyrábí strach a nenávist.

Super.Rad vas posloucham.Snad to vsechno nejak prezijeme.Snad nas vsechny neznici.Slovane vzbudte se.

Super!!! Vydržet!!! Hydra nejvíc kope, když dodělává!

Daniel Dvorník

16.03.2022

VK nejlepší na světě.

Líbilo se mi vaše vysílání, ale jste blokování. Bohužel pravda se mocným nelíbí.

Tento člověk nechce Váš názor, ale chce slyšet svůj názor od Vás :-D Máte můj obdiv, že se s ním vybavujete :-D Jsem ráda, že tak vyšinutého člověka nemáme doma :-D Má svoji pravdu a kazí nám všem večer hloupým moralizováním :-( Vypněte ho psychopata hádavého :-(

Reaguji na vysílání o volném bloku... To je opravdu špatné a špatná reakce jedné strany které jde v podstatě o blaho občanů.. myslím že to co se děje teď dlouho po volbách by mělo nastartovat všechny normálně uvažující lidi k tomu že mít spoustu malých stran které chtějí blaho občanů je velice špatně.. Česko potřebuje jednu takovou ale silnou... Pořád se držíte jejich modelu dostat se do parlamentu za každou cenu... Ale ten systém je špatný..
Information about the radio
Naše filosofie
Svoboda slova, hledání pravdy, zakázaná a kontroverzní témata, příležitost pro všechny s možností se vyjádřit či reagovat. Žádné mazání reakcí a komentářů ala Oskar z ČT. Větší pozornost občanské společnosti.

Naše historie
Projekt začal jako internetové rádio na Slovensku. Součástí projektu bude i internetová televize a prostor pro blogy. Vzhledem k otevřenosti a pravdivém obsahu programů nevidíme zatím reálnost terestriálního (pozemního) vysílání. Snad s podporou posluchačů…
Radio contacts
e-mail: [email protected]