Stand with Ukraine. Save peace in the world!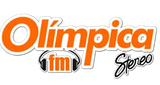 Olímpica Stereo
Olímpica Stereo es una emisora de la Organización Radial Olímpica. Acompaña a sus oyentes todos los días con buena música, el mejor humor y muchos premios!
Show more
TOP songs on Olímpica Stereo
Olímpica Stereo reviews
Juan Urrea 555

10.11.2023

Saludos al grupo 555 Juan, Leo Tefy y Meli a sus servicios todo lo relacionado con publicidad En Tolú Sucre

Eugenio Therán P

15.06.2023

Buenas tardes, solicito la Fuga de Leandro Theran. En sintonía de Olímpica desde Corozal.

valentina perez

20.05.2023

Buenas tardes, por favor me ponen un millón de besos de los inquietos.

jose gabriel benitez garrido

18.04.2023

En esta tarde asoleada en la capital de Colonbia escuchando Olimpica Stereo papa Guarda de seguridad Benitez Jose gabriel un saludo a toda la gente de Since

Cesar Montes Quintero

24.12.2022

Excelente olímpica en plena sintonia desde uraba (carepa antioquia)

Rosiris Isabel Lopez Diaz

18.11.2022

Excelente olímpica stereo reportamos sintonía desde San Marcos Sucre.

Daniel Molina Salazar

05.11.2022

Un saludo para Mónica María Puerta departe de Andrés Molina en medellin

GEOMARA ROMERO MARTINEZ

14.10.2022

Buenos días reportando sintonia desde barranquilla envió un saludo muy especial para mi hermano Erwin romero en sábanas de la negra que se encuentra de cumpleaños en este dia que Dios lo siga bendiciendo

Jose Gabriel Genes Banquet

21.09.2022

Buenos días reporto sintonia desde Medellín, envío saludos a mis padres arturo genes y belladith, al primo ever luis y a mi hermano luis arturo en san Bernardo del Viento. Fieles olimpiquistas

Humberto Enrique Blanco Bertel

27.08.2022

Desde Bogotá un saludo a David Bertel online Radio.
Information about the radio
Programación:

LUNES A VIERNES

• 06:00am a 10:00am
Temprano es más bacano

• 10:00am - 12:00pm
Aló dj

• 12:00pm a 02:00pm
Vallenatos de oro

• 03:00pm a 06:00pm
La gózadera olímpica

• 06:00pm a 09:00pm
De regreso a casa

• 10:00pm a 01:00am
La trasnochadera

• 03:00am a 05:00am
Vallenato corrido

SÁBADOS

• 02:00am a 03:00am
La hora del cacique

• 03:00am a 10:00am
Vallenato corrido

• 10:00am a 01:00pm
Las 20 latinas

• 05:00pm a 06:00pm
La hora del cacique


DOMINGOS

• 02:00am a 03:00am
La Hora del cacique

• 03:00am a 06:00am
Vallenato corrido
Radio contacts