Stand with Ukraine. Save peace in the world!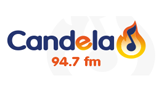 Candela Stereo Casanare
Candela Stereo Casanare es una emisora de radio Colombiana, que transmite en vivo desde Casanare en el municipio de Yopal, el cual cuenta con una población de aproximandamente 350978 personas. Si te encuentras en el municipio de Yopal, puedes escuchar toda la programación de la emisora Candela Stereo Casanare por el canal 94.7 FM.
Candela Stereo Casanare reviews
Lina Maria Arenas Hernadez

28.11.2021

Buenas tardes ,buena trasmisión quiero unirme a jugar con usted.

Muy bueno colectivo teatral ARCHÉ

excelente

Audrey Karina Barrera

13.08.2021

Gracias por apoyar el talento regional, ustedes son un verdadero ejemplo que no todo es dinero, en otras emisoras si no se paga no promocionan a nadie..!!

es muy buena calidad les recomiendo esta emisora

Nelson Sanabria

12.04.2021

Muy Buena Calidad.....

Me gusta ,Pero deberían dar los premios más fáciles somos fieles oyentes de la emisora 🎅🎅😍

Claudia Castro

09.10.2020

Buenos días, por que no se puede sintonizar candela estéreo Casanare para escucharlo por medio de un computador, sale la misma canción.